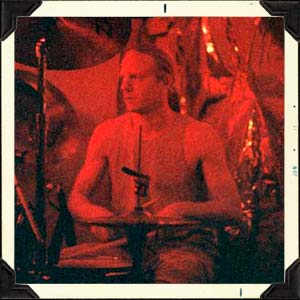 Original 1999 Questionaire
NAME: Kurt Selboe – aka Kelt Serbo
AGE: 32 and a half
BIRTHDAY: September 23, 1966 – me, Ceasar Augustas, Bruce Springstein, and that chick from Family Ties…no. The other one.
SIGN: Virgo/Libra – Woohoo! I'm on a cusp, baby! Two – count 'em – TWO horoscopes every single day. Ahhh life is sweet.
HEIGHT: 'bout 6' 1" – depends on what I'm thinking
WEIGHT: 'bout 180
MARITAL STATUS: Single. One. Uno. Interviewing.
CHILDREN: AAAAAAAARRRRRRRRRRRRRRGGHH!!!!! (sound of running feet – mine). Although a friend who has kids told me recently that until the age of 17, children make great sherpas. Hmmmmmm…
INSTRUMENTS: Drums. And drums. I tend to grunt when I play but I don't think that counts as vocals.
FAVORITE ARTIST: Sargent, Bon Scott, Laurie Anderson, Marie Boyne, Peter Gabriel, Diamonda Galas, the guy who makes those apple swan things at China Pearl…that's just cool.
BIGGEST INFLUENCE: Fear. Cold, stealy, gripping fear. It's what gets me out of bed in the afternoon.
FAVORITE COLOR: Gray with just a hint of bluish/orange
FAVORITE FOOD: meat. red red meat. rare. But I only eat if for the sake of humanity. Ever hear the saying "When China wakes up, the world will listen."? Same thing goes for bovines, man. They're gunning for us so we'd better eat up. Take a close look at the grassy knoll in frame 189. What do you see? I'll tell you what you see. A cow. I think I've made my point.
FAVORITE DRINK: Guiness. Followed by another Guiness. Oh and single malt Scotch. And Finlandia. And 7&7"s. Oh what the hell. One more Long Island Ice Tea, pleaszh. 'an one fer all muh new fri(hick) frien(huck) friendszh at th' (braaaap) bar. (thunk) (gawd I hope someone loaded out my drums) zzzz
LIKES: Rickety elevators, heavy airplane turbulence, Kennedy jokes, disliking Kenny G(uh). Also romantic, candle-lit beach walks while sailing a bottle of Sangiovese into the sunset on horseback with a great big case of Pabst Blue Ribbon Light in the cooler. And tractor pulls.
DISLIKES: Kenny G(uh), Kenny G(uh), thought-free people, suburbs, Kenny G(uh), TV, runny eggs, air conditioning, alarm clocks, the word "Tuesday."
GOALS: To sit down one day and make some goals for myself.
OTHER INTERESTS: mountain biking, tae kwon do, camping, Space, left feet, fractals (hey those new cellular antennas are really cool), beads of mercury, giddily anticipating watching a media-fueled nationwide freakout over the non-event known as "Y2K", undisciplined bondage, outdoor plumbing.